The HAUS of Halal: Digital marketing and cosmetics make chemistry
Aug 01,2022 | The Asia Connects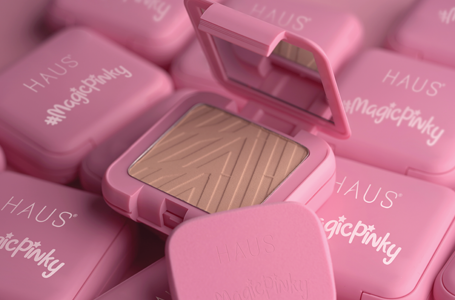 Cruelty-free. Vegan-based. Halal. These words will get many cosmetics consumers to open their wallets these days amidst the growingly affluent Muslim population and increasing consumer social awareness.
HAUS Cosmetics checks all the boxes. With an in-house research and development (R&D) team and a factory, the Malaysian company is on a mission to produce natural, vegan and halal-certified cosmetics and skincare products.
Established in 2019, the brand greeted the world from its headquarters in Cheras, Kuala Lumpur, with around 100 staff across departments like R&D, production, warehouse, marketing, packaging, and sales. Now, the brand claims to have produced over 1,000 entrepreneurs who are trained to sell its products. Besides HAUS Cosmetics for make-up, the brand has also launched HAUS Skin for skincare, HAUS Premium for high-end formulations using luxurious ingredients, and HAUS Superfood for supplements.
Make-up brands are clamouring to ride the hype for halal. One industry forecast indicates that the global halal beauty market is expected to balloon to US$54.16 million (RM223.98 million) by 2022 from US$20.25 million in 2015.
While homegrown halal make-up players may seem small-fry compared to the international beauty titans dominating the market, these smaller brands are leveraging social media and live-streaming to amass a strong following. Asia Connects talks to Eiyma Jalil, CEO of HAUS, to learn why she decided to take on the cosmetics world despite her humble background and how the brand is going international by playing digital right.
Asia Connects: Could you tell us more about the story of HAUS? What was the inspiration behind the founding of this company?
Eiyma: My passion for beauty, and a question from my mum. She once asked me whether all the make-up products I used were halal. That got me thinking – how can I be sure about that? These were products from overseas manufacturers, and I'd never seen the whole process of making these cosmetics. That drove me to take the responsibility as a Muslim to produce cosmetics with quality that rivals international brands but are also guaranteed halal and safe for consumers.
Beauty is my soul, and I gave up my career in auditing and dived into the field of beauty amidst doubts from people around me.
Thanks to the full support from my mother and my husband, I took two years to get my cosmetics factory, GIM Cosmetics Industries, off the ground, and it was officially established in 2014. Since then, I have produced the formulation for thousands of cosmetic brands, and not even once was my formulation taken down by the Malaysian Ministry of Health for endangering customers' health.
Each entrepreneur has their journey and battles. For me, it is to produce halal cosmetic products on par with international standards. It took me a decade to get what I am today. It was only in 2019 that I established my brand, HAUS Cosmetics, to fight for my mission and vision in the beauty industry.
AC: What were your biggest challenges when starting this company?
Eiyma: Capital was the biggest challenge. As the eldest daughter of the family, with my own family and kids, I had financial responsibilities to juggle. I did not have any connection or institution that would fund or invest in my business.
Supported by my husband as my business partner, I put in 100% of my savings and decided to go all-out. I hired a chemist and opened a small laboratory with all the equipment and raw materials we needed to conduct research and development. Getting high-quality, certified halal materials at an affordable price was a significant hurdle, as we were only a startup with a small order quantity. So the cost was hefty too. But I was determined to forge my path.
AC: You have certainly come a long way! HAUS has expanded to the international market. Can you tell us more?
Eiyma: Yes, other than Malaysia, we now have distributors in Singapore, Brunei and Indonesia. We have even trademarked our name "HAUS" in these four countries.
AC: How is the Malaysian beauty industry faring, and how is HAUS Cosmetics riding on this?
Eiyma: The demand for halal cosmetics is an enormous opportunity in Malaysia. We are on track to meet this growing demand within the country and worldwide.
Compared to other brands, our advantage is that we have our own cosmetics factory certified by the world-class halal institution, JAKIM. Here, we do our formulation, as well as research and development. Therefore, we can selectively choose our active ingredients and materials.
Most importantly, we can always manage and cater to the demand by ramping up production. These advantages helped us to stay competitive in the market.
AC: What are some of HAUS' notable strategies to expand its consumer base amidst the dizzying number of competing brands from local and international markets?
Eiyma: When TikTok first gained traction, people around me said that TikTok is not a platform for serious businesses. But I explored the platform further because I saw there is something different about this platform compared to other channels. I studied TikTok's audience and content to come up with suitable strategies.
Our brand was finally ready to dive into TikTok in January this year, and boom! The views kept rolling in. Our launch campaign in March 2022 for the Magic Pinky 5-in-1 powder foundation is still going viral today. We are also doing TikTok Live daily through two TikTok accounts, one under my name 'Eiyma Jalil', and the other for the brand, 'HAUS Cosmetics Malaysia'.
This is one of our key marketing strategies, and we have learned that with persistence and consistency, we can see results on this platform quickly. That's the strength of digital marketing in the current business environment. Digital marketing has no boundaries. On a single social media platform, we can go worldwide.
Adopting the right digital media strategy can boost a startup's growth momentum. Cognizant of this, HAUS Cosmetics has partnered with SHOPLINE, an end-to-end e-commerce specialist that provides comprehensive technology solutions.
Founded in Hong Kong in 2013, SHOPLINE entered the Malaysian market three years ago, helping companies establish online and offline sales channels and expand their business. Besides assisting businesses in creating websites and connecting their businesses to e-commerce platforms, one of SHOPLINE's strengths is converting the followers of a merchant's social media platform into a consumer base via live-streaming sales sessions.
Live-stream selling is prevalent in China, but it is still a relatively new concept in Southeast Asia. Even so, selling through 'FB Live' or 'IG Live' is gaining popularity in the region, and SHOPLINE supports these areas to help merchants expand their sales channels. For more information, visit https://shopline.my/
Source: The Asia Connects: The Haus of Halal - Digital Marketing and cosmetics make chemistry
Comment
Back to News.